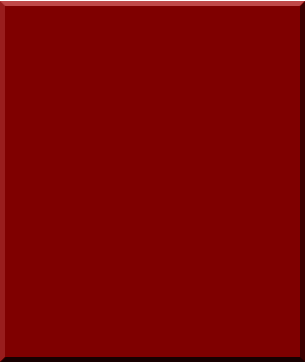 HOURS:
Drop off and pick up
Monday -Friday 7AM-10AM
5PM-8PM
Saturday
7AM-12PM
Sunday
5PM-8PM
*Our of courtesy for our canine guests,
we ask for arrival and departure within
the hours stated. However; we will do
our best to accommodate your schedule.
Extra charges may apply.
* Operating but closed to the public on
New Years Day, Easter, Thanksgiving,
Christmas Eve (half day) and Christmas
day.
We genuinely care about your pet's
well being. During their stay with
us, we treat them like our own. Our
professional and devoted staff as well
as a happy and healthy atmostphere
are only two of the many factors
unparalleled in client satisfaction.
We have served over 2,000 repeat
four legged clients since 2008. Local
veterinarians refer their clients to us.
We are very honored and consider
this to be the highest compliment a
pet care facility can recieve just short
of the many dogs who are eager to
enter our resort. We encourage you
to visit. Please call us for available
tours throughout the week.
*Spacious heated / AC indoor suites leading to covered
outdoor runs
*Serene indoor atmosphere with soft music and special
lighting in an odor free environment
*Cots are provided for comfort and leisure
*Indoor lounges to play during inclement weather
*Supervised unlimited time outside no less than four times
a day in large grassy play yards
*Individual supervised play
*Choice of supervised communal play with evaluated dogs
of compatible size and energy level
*Baby pools for water dogs
*Constant interaction throughout the day.
*Security cameras recording motion 24/7
*We accept special feed instructions and give supplements
and medications at no charge
*Refrigerator and freezer on site for raw feeders.
*Immediate contact numbers are provided for you to check
on your dog.
Rubberized flooring available for disabled, special needs or
senior pets
*Owners have 38 years combined experience in the animal
care industry.
*Ask about multiple dog discounts!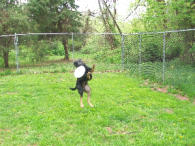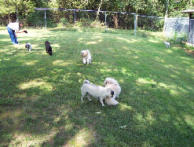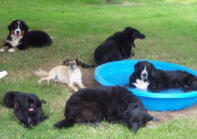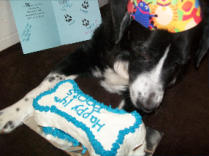 EXTRAS:
Canine Massage
Country Trail Walks
Daily Brushing
Birthday Celebrations
Holiday Celebration
Gourmet Meal
Balanced Raw Meal
Printed Pictures
Busy Bones
Tread Mill Time
Swim Time coming soon!
HELPFUL HINTS
-Bring something that smells like you or home A good idea is
to wear an old Tshirt to bed the night before and enclose it in a
zip lock bag for us to give your dog.
-When you check in your dog, be happy and cheerful. Our
dogs are keen on our emotions. If you suffer from separation
anxiety, your dog will sense your stress and could become
anxious as well.
-If packing disturbs your pet, allow his/her vacation to start
before you begin packing.
-Snacks are wonderful and we know your pet enjoys them but
please do not "overstuff" your dog with treats or food before
coming to our pet resort. They could develop stomach upset if
too full.
*We recommend you provide your pet's food for digestive
reasons and familiarity. We do offer high quality, all natural
wheat free commercial kibble.
*We welcome toys from home as well as washable bedding.
*Please remember to license your pet and bring the tag with
your pet's collar! We will ask for a copy of your dog's current
vaccination records. Please see our vaccination policy!
Dont "bored" your
dog, bring them to
our pet resort!
Please call for rates
and availability!